Art Moore '66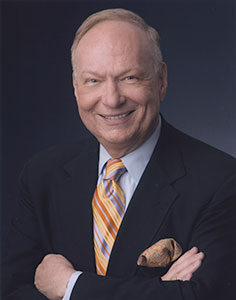 Art's a graduate of Ithaca College's Roy H. Park School of Communications and is the vice president of programming at WABC-TV as well as executive in charge of production for the nationally syndicated program Live with Kelly and Michael. He credits his IC experience with not only helping him land his first job but achieving success in a competitive, dynamic field.
"I feel like none of it really would have happened had I not gone to IC," Art says. "I have a very strong connection to my time there, in terms of the programs, the professors, and the general feel and tone of the campus and the college itself."
"When you have that kind of experience, you should give something back." And has he ever.
Art's dedication to the college is legendary. He regularly meets with students, either in New York City or Ithaca, giving advice, answering questions, or simply easing their minds. He established the Art Moore '66 Scholarship, which supports students in IC's executive-style communications master's program. He contributes to the Big Apple Award, a reservoir of funding for students who might turn down an internship in the city because they can't afford to live there.
And he recently found another way to open doors for students. He designated Ithaca College as a beneficiary of his estate.
"My bequest is a continuation of my efforts to give back," Art explains. "I want to do whatever I can to help students be successful."
© Pentera, Inc. Planned giving content. All rights reserved.
Disclaimer