Chollet Endows Scholarship in Thanks for Excellent Education and Experiences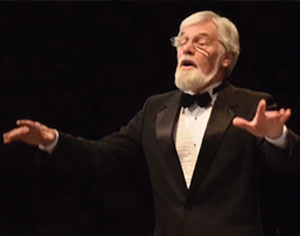 Gary Chollet '65, MS '70 grew up on Long Island and has lived most of his adult life in the Horseheads/Elmira area with his wife of 53 years, Bonnie. Gary continues to enjoy a 54-plus-year career as a music educator and performing musician thanks to the excellent education he received at Ithaca College. "I had looked at several schools, and I had an audition in NYC with Dean McHenry," he says. "Even though I'd never been to campus, when the School of Music offered me some scholarship assistance, I took them up on it."
Gary thrived as a student at IC and actively participated in ensembles both on campus and off, including performing with the Orchestra of the Southern Finger Lakes. To this day, 57 years later, Gary continues as a performing violinist, an active member of the Board of Directors, production manager, and conductor of one of the orchestra's youth ensembles.
Gary has many fond memories from his time at Ithaca, including spending a week touring with the IC orchestra on Long Island culminating with a performance at the 1964 World's Fair, sneaking into the old downtown music building and ringing the bells on Bach's birthday, and playing one of the first concerts as Concertmaster of the orchestra when the new music building's Ford Hall was opened.
Making his home just 30 miles from campus allowed Gary to remain close to his alma mater over the years. "I'd have many IC faculty members come down to work with my students for master classes and performances," Gary says. "And I would take students to hear concerts at the School of Music. When I retired from public school teaching, the college asked me if I would do some teaching here on campus—so I've been adjunct faculty for 20 years. I got to thinking, 'alright, I'm retired. I don't really need this money,' so what better way to show my gratitude than to give it back to the college?"
In thanks for the wonderful preparation in music training and excellent ensemble experiences that IC provided for him, Gary has established The Gary Chollet Class of '65 Endowed Scholarship to encourage and help future musicians with their educations. Gary used his creative energy that had served him so well as a musician and educator working with Ithaca College staff to fund his scholarship by blending gifts from his individual retirement account's annual required minimum distributions over five years combined with a bequest form his estate to create a distinctive gift to support current and future IC students.
© Pentera, Inc. Planned giving content. All rights reserved.
Disclaimer